Argentine senate to vote on August 8th on abortion decriminalisation

By Sorcha Pollak
More than sixty TDs and Senators have signed a letter calling on the Argentinian senate to legalise abortion in the first 14 weeks of pregnancy.
The letter, which was was organised by Amnesty International, will be sent to Argentina's senate ahead of a vote on August 8th to decide whether a bill legalising abortion for the first 14 weeks becomes law. The bill narrowly passed the lower house of Argentina's congress in June.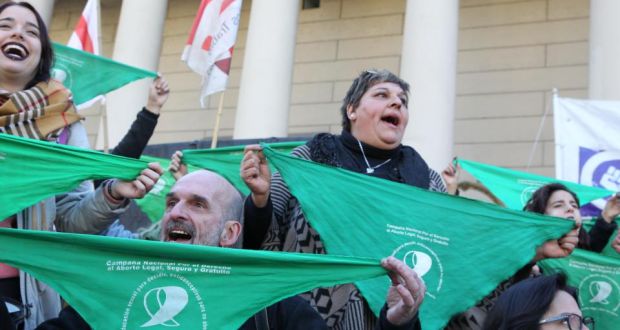 Argentina currently allows access to abortion in specific cases, including rape and risk to the mother's life. However, doctors are often unwilling to carry out terminations for fear of prosecution and campaigners have argued that restrictions are pushing women to seek unsafe abortions.
A resounding and emphatic Yes – the people have spoken
Ireland votes to remove constitutional ban on abortion by resounding two-thirds majority
How the Yes and No sides won and lost the abortion referendum
An estimated 500,000 abortions take place in Argentina every year representing four out of ten pregnancies. However, it continues to be the number one cause of maternal death in the country and an estimated 3,000 women have died since 1983 because of unsafe terminations, according to the national campaign calling for free and safe access to abortion.
In the letter, TDs and Senators note that by criminalising abortion, the Argentine State is "violating women and girl's human rights".
"We note with concern that Argentina's criminalisation of abortion forces hundreds of thousands of women each year to undergo clandestine and unsafe abortions, putting their lives and health at risk," reads the letter.
The letter explains how Ireland's cross-party parliamentary committee, which was formed to make proposals for legislation on access to abortion, found that access to abortion without restriction should be legal during the first trimester of pregnancy.
"We hope that our experience in Ireland illustrates that legislating to safeguard women's access to safe and lawful abortion services is both necessary and possible. We urge that you, the members of the Argentinian Senate, now seize this momentous opportunity to put an end to the injustices against women and girls by voting favour of this Bill."
Signatories of the letter include Alan Kelly, Labour; Brendan Howlin, Labour; Catherine Noone, Fine Gael; Catherine Murphy, Social Democrats; Lorraine Clifford-Lee, Fianna Fáil, Bríd Smith, People Before Profit; Niall Collins, Fianna Fáil; Noel Rock, Fine Gael, Seán Crowe, Sinn Féin (on behalf of the whole party); Ivana Bacik, Labour; Joan Burton, Labour; Lynn Ruane, Independent and Richard Boyd Barrett, People Before Profit.